Free Shipping in the USA & $5.00 (USD) Flat Rate Shipping Worldwide!
One of the Best Books for Teachers and Education Lovers ever written!
Fearless Teaching® is a way of seeing the world that will change how you understand yourself…. and help you become a positive agent for change in the lives of learners of all backgrounds and walks-of-life!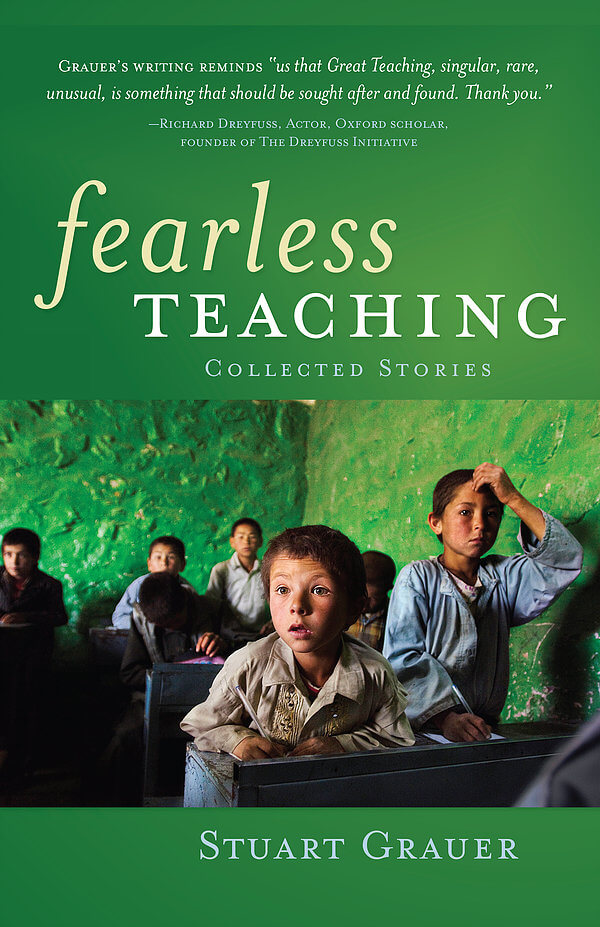 About
Fearless
Teaching®….
Fearless Teaching® is a stirring, audacious jaunt around the world that peeks through the eyes of one of America's most seasoned educators to take you to places you may never see on your own. It is like playing hooky from school. You will travel to the Swiss Alps, Korea, Navajo Nation, an abandoned factory in Missouri, the Holy Land, the Great Rift Valley, Cuba, the ocean waves, and the human subconscious…. even Disneyland! There you will find colorful stories for the encouragement, inspiration, and courage educators and parents alike can benefit from!
Introduction
An Open Field of Questions
Can we restore story to a world obsessed with data?
A few years ago, while this book was still just a few sketches, I met a teacher from Surry, England, who described our field's basic conflict this way:
Teachers start feeling like their own stories don't matter and that their primary role is in reacting or responding to the inspectors' standards. But when people are given a little time and space to do something creative on their own, you can't believe how excited and productive they become. 
Tom's story captures a conflict that can play out in contradictory ways. Like so many of our students, many teachers feel marginalized or trapped, like an underclass, and they either resign or remain passive. Other teachers feel a calling, more than ever, to find freedom for the expression of the human spirit. This conflict is universal inasmuch as it transcends boundaries of all kinds, be they political, social or economic. Rich school or poor school, in any hemisphere you'll find stories where people are caught in this bind. But you don't need to travel the hemispheres, because you can read and ponder these Socratic Stories. As these conflicts find either resolution or dissolution in the following pages, meaning and purpose unique to every reader will emerge. Each Socratic Story in this collection resolves in paradoxes or questions that you, its reader, face alone. They may leave you a bit off-balance. Nevertheless, I think you will find a few of them that are good companions for you.
David Brooks wrote, "Once people start speaking to each other and telling stories to each other, they generate alternate worlds. A story isn't an argument or a collection of data. It contains multiple meanings that can be discussed, questioned and reinterpreted." In our data-obsessed field of education, telling us more of the same and confirming more of the obvious, a good story allows us to see the world through clear lenses, and to ask bigger, more humble, and more open questions. These Socratic Stories are intended to challenge our deepest assumptions about what we do as educators (and students and parents) every day as we face the largest questions our field has to offer. Is the role of the teacher to civilize and dominate our students or to enlighten and empower them? Is our teaching an act of liberation or control?
Read the stories in any order you like. Fearless Teaching pulls from experiences from my own childhood and extensive public and independent school experiences, then moves out into the world further than I imagined I would, in an effort to listen better, and in this way to discover always more essential questions to ask. Years of searching for answers yielded bigger questions, and here are the biggest ones I could find:
What if we evaluate our students and our schools by measuring happiness? Or kindness?

Are we willing to risk our jobs in the pursuit of real and deepening connection with our students?

Can open-heartedness prevail over the exhaustion and self-interest we often find around us?

How do we manage to stay in this work?
The study of these questions keeps taking me back to a single question and many of the stories in this volume may lead you to it as well. It's a simple question, Socratic, hence, inviting your answers:
What greater expression of human freedom could there possibly be than teaching?
Answers are alive in our stories, however happy or painful they may be, however far we must travel to find them. Can we restore our passion for teaching through simple, Socratic storytelling? Let's see . . .
"Do not depend on the hope of results . . . you may have to face the fact that your work will apparently be worthless and even achieve no result at all, if not perhaps results opposite to what you expect. As you get used to this idea, you start more and more to concentrate not on the results, but on the value, the rightness, the truth of the work itself . . . you gradually struggle less and less for an idea and more and more for specific people . . . In the end, it is the reality of personal relationship that saves everything." –Thomas Merton
"Fearless Teaching is the rare book about education that is both beautiful and critically relevant. With a command of language, story telling, observation, and insight that is all but extinct in non-fiction, Grauer weaves a vivid tapestry where the warp is 'how we learn best' and the waft is 'the soul of the true teacher'. A book that belongs on the shelf of all who are custodians of our youth, to remind us of why we teach and just how powerful the transformation of learning can be."
—Grant Lichtman,
Senior Fellow,
The Martin Institute for Teaching Excellence
"Grauer's writing reminds "us that Great Teaching, singular, rare, unusual, is something that should be sought after and found. Thank you."
—Richard Dreyfuss, Actor
Oxford scholar,
founder of The Dreyfuss Initiative
"Recommended for parents, teachers, school principals, and children. Want to change your paradigm? Go on . . ."
—Sugata Mitra
Professor of Educational Technology
Newcastle University, UK
"Each story is a gem unto itself — conveyed with humor, compassion, and deep reflection on the deeper meaning of "education" in today's world. The global perspectives provide richly detailed points of comparison and contrast to American education ideologies. The Socratic framework models best practices for teaching and learning, and sustains ongoing inquiry long after finishing reading."
—Anita Charles, Ph.D.
Professor of Education
Bates College
"Fearless Teaching" demonstrates that all great teachers are great storytellers. For us "seasoned" educators, Grauer helps us remember why we went into the field in the first place. For educators in training and new teachers it is a brilliant navigational aid for helping them to find their way in this complex field, cluttered with ideas that remove us from the essential ingredient - it's about relationships. William Arthur Ward wrote: 'The mediocre teacher tells. The good teacher explains. The superior teacher demonstrates. The great teacher inspires.' Stuart Grauer inspires masterfully with Fearless Teaching."
—David Blumenkrantz, Ph.D., Ed.M., LADC 
Center for Youth & Community, Inc.
"Each story compelled me, challenged me, or just plain stopped me cold in my tracks."
—Clint Davis
Head of School
Discovery Preparatory School
"Insightful, light-handed, and immediately appealing to any thinking person. It runs out to play in the woods beyond the backyard, but it always comes home."
—Doug Katz
Author and founder of JamArtz Studio
"With Fearless Teaching, Grauer makes an invaluable contribution to the urgent conversation that we all must have if we are to successfully change the direction and substance of formal education. In Grauer's hands the 'story telling' directs us to crucial and well researched truths about education."
—Joe Brooks
Executive Director, Community Works Institute (CWI)
"It is a deeply rich journey to far reaches of the globe filled with stories of hope, compassion, and curiosity . . . Fearless Teaching is a way of life—a challenge to us all to stay open, to play, to explore, to stay curious, to be happy and most importantly, to love."
—Michelle Rose Gilman
Founder of Fusion Academy and Learning Centers
"Fearless Teaching is a unique, consuming, and transformative mediation on a pedagogy of listening that will reinvigorate our shared commitment. Trust Stuart Grauer."
—Chris Thinnes
Independent school leader, Fellow of the Martin Institute for Teaching Excellence and consultant in Los Angeles.
"Grauer begins each chapter with a question, proceeds to explore that question with a story about a school or an educational experience, and concludes, usually, with an observation or two about how the story could apply to American education. The storytelling framework and cross-cultural analysis make for vivid and, at times, poetic reading"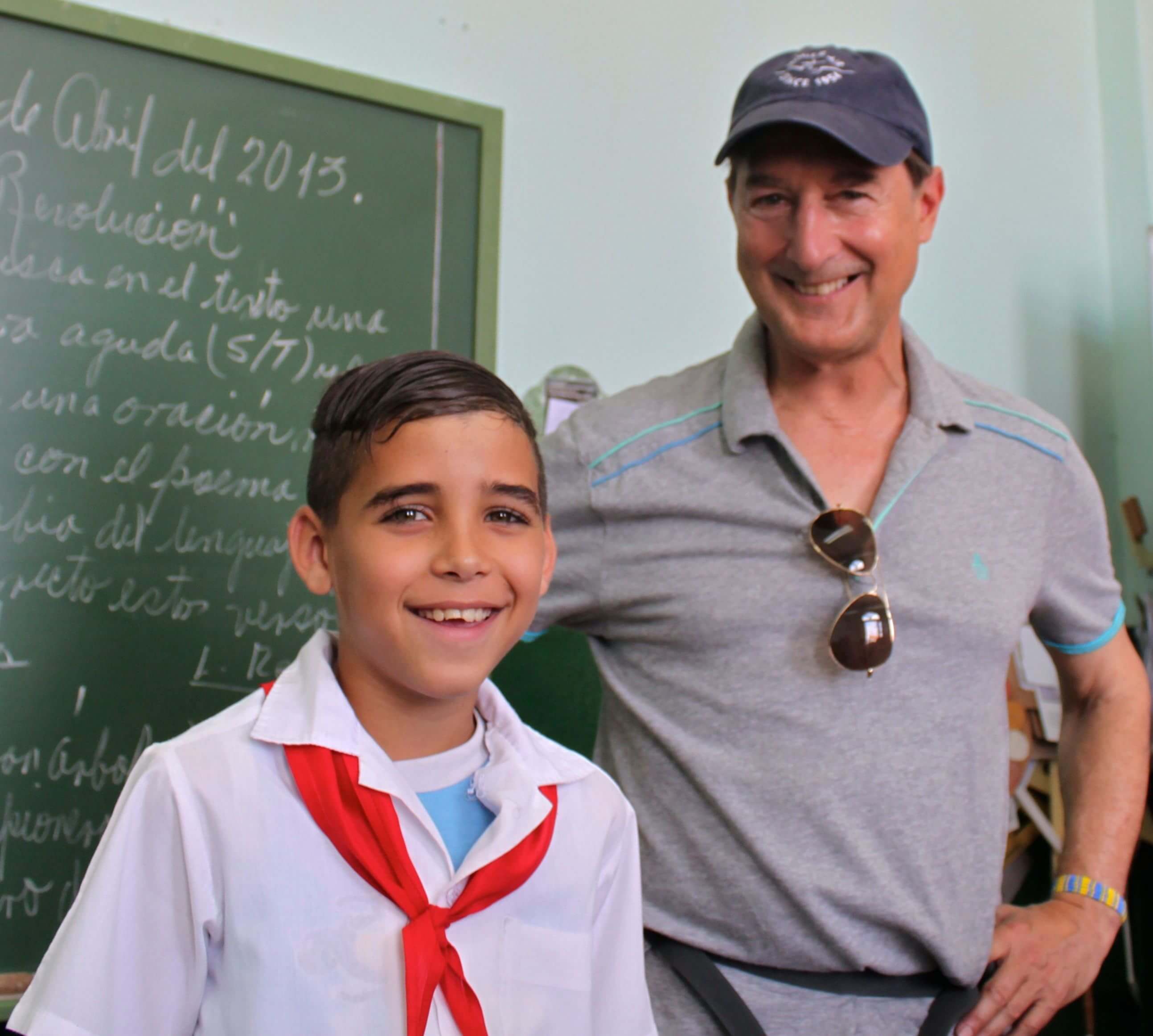 Dr. Stuart Grauer is the Head of School and Founder of The Grauer School and the Small Schools Coalition. He has founded two independent secondary schools, consulted with/evaluated many schools worldwide, taught graduate education courses, and been awarded with a Fulbright Administrative Exchange. His work has been covered by Discovery Channel, The New York Times, Independent School, International Education Review, ASCD's Smartbriefs.
Dr.Grauer is frequently in the local press in his home town of Encinitas, California, where he has been named "Peacemaker of the Year" and a "Local Legend." He is the 2014 recipient of the University of San Diego's highest alumni award, the Career Achievement Award. Fearless Teaching® has been described as "a deeply rich book filled with stories of hope, compassion, and curiosity."  You can learn more about Dr. Grauer here!
Free Shipping in the USA & $5.00 (USD) Flat Rate Shipping Worldwide!
Be Sure to Read Dr. Grauer's Other Book….
Real Teachers: True Stories of Renegade Educators
Dr. Grauer's first book, Real Teachers, was a finalist in the San Diego Book Awards. Educational leaders around the nation have referred Real Teachers, as "amazing," "restorative," "clear as a bell," and bringing "joy, courage and imagination to the dialog on education."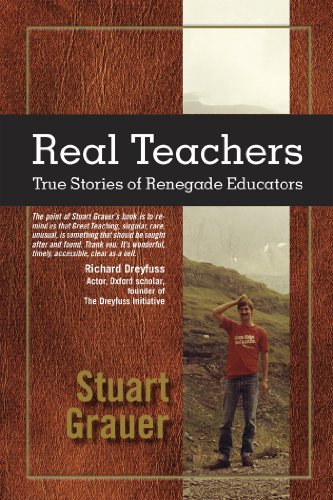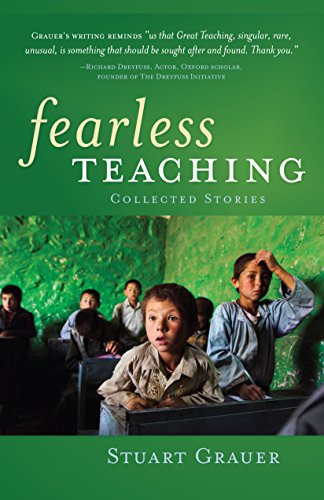 Buy
fearless
Teaching®

!
Fearless Teaching® is a "must-own" book for educators, administrators, parents, and every person who strives to make a positive difference in schooling and society!